CeAS Open Didactic Resources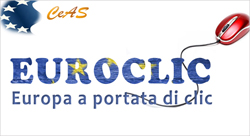 Euroclic: Europe at a click
Euroclic aims to provide an aid for beginners, aspiring experts and experts in European matters, enabling them to benefit from the potential offered by electronic systems and to access information, carry out research and consult documents on the European Union. The multimedia material consists of a set of audio, video and textual contents related to Europe story and main issues.
http://www.centrospinelli.eu/pages/euroclic.html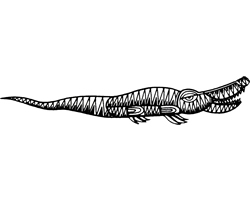 Digitized Crocodile Newsletters
The online publication of the complete collection of the "Letter" of the Crocodile Club started in 1980 at the initiative of Altiero Spinelli. It is a collection rich of historical and documentary interest and topical reasons, made accessible to the entire scholarly community and the general public as a contribution for reflection on the fate of the European unification project.
http://www.centrospinelli.eu/wp/crocodile/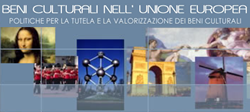 Beni culturali nell'Unione europea
Nell'ambito del progetto di ricerca "Smart Environments", cofinanziato dalla Regione Lazio, e' stata realizzata, per iniziativa e con il contributo del Centro di eccellenza Altiero Spinelli (CeAS), una nuova edizione del sito Beni Culturali nell'Unione Europea attivo giÓ dal 2006. A tal fine si e' scelto di non procedere unicamente all'aggiornamento dei materiali raccolti in precedenza, ma di effettuarne una riconfigurazione articolata nei seguenti punti: a) schede riassuntive in materia di politiche culturali degli Stati membri e dell'Unione europea; b) bibliografia; c) link delle istituzioni culturali dei singoli paesi.
http://www.centrospinelli.eu/wp/
Rome International Seminar (RIS)
In the years 2016-2020 CeAS collaborated to the Rome International Seminar set up at "Roma Tre" University, with the support of the Italian Ministry of Foreign Affairs (Ministero Affari Esteri - Cooperazione italiana allo sviluppo - Agenzia italiana per la cooperazione allo sviluppo), and with the participation of national and international organisations, universities and cultural associations. The Third Edition of RIS on "University Cooperation: Euro Balkans Middle East" was held on September 20-28, 2019, during which Prof. Luigi Moccia gave a lecture (here available in its updated version, 29/10/2020) on "Global Citizenship: challenges and opportunities".
EuropaScuola.EU
Sul sito www.europascuola.eu, nell'ambito del progetto "Aspettando il 9 maggio…la festa dell'Europa" è accessibile la video-lezione tenuta dal Prof. Luigi Moccia, martedì 13 Aprile 2021, dal titolo "Cittadini Uniti d'Europa".
Open Working Papers
P.Beraldi, La tutela dei minori nei servizi di media audiovisivi. La disciplina comunitaria dopo la riforma della direttiva 97/36/ce e il suo impatto sulle normative nazionali: Italia e Germania.
(Download il documento)

S.Stabile, La tutela dei minori nei servizi di media audiovisivi. La disciplina comunitaria e il suo impatto sulle normative nazionali: Olanda, Svezia, Portogallo.
(Download il documento)

A. Manghisi, Analysis on the intergovernmental and supranational constrictions on the External Action Service.
(Download il documento)

L.Teodorescu, Lo sviluppo di una politica di immigrazione dell'Unione europea.
(Download il documento)

M.C.Buttiglione, G.Serino
,
Analisi dei piani europei, nazionali e locali di sostegno al sistema dei media, con particolare riferimento ai progetti televisivi su banda larga e sulle iniziative a sostegno della cross-medialità.
(
Download
il documento
)
Europapers
Tra le attività editoriali del Centro si annovera, nel periodo dal 2000 al 2001, la serie EuroPapers.

Per accedere al documento completo inserisci la password o richiedila compilando il modulo a questo link.

1. L.Moccia - Cittadinanza europea e amministrazioni pubbliche
2. J.Shaw - Interpreting the Concept of European Citizenship
3. P.Biavati - Il cittadino e la giustizia
4. M.Maresceau - Relations between EU and CEEC in the light of enlargement
5. G.Trupiano - Riforma del bilancio europeo
6. M.Morabito - Citoyen et Nation
7. A.Truini - Modelli di pubblica amministrazione
8. A.Sacchetti - Deliberazioni a maggioranza qualificata Consiglio
9. F.Guerra - Spesa per investimenti e fondi strutturali europei
10. V.Dastoli - Dalla diplomazia alla democrazia
11. R.Cangelosi - Processo di formazione normativa comunitaria
12. A.Esposito - Revoca atti amministrativi comunitari