CeAS High Education Program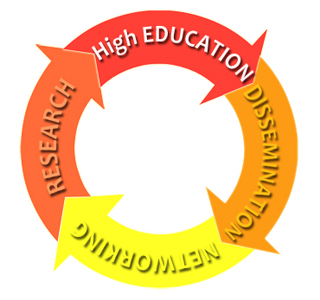 Master in European Citizenship and Euro-Mediterranean integration. Cultural heritage as a factor of cohesion and development:
Focused on EU as a global and regional peace's actor in the dimension of cultural heritage and activities, this post-graduate course is active from the 2008. It was born out of a partnership with Anna Lindh Foundation, Italian Ministry of Foreign Affairs and the Italian Ministry of Cultural Heritage and Activities, and the "Lazio" Region. Over time the master graduated over eighty students, from a variety of countries, including Albania, Algeria, Azerbaijan, Bulgaria, Egypt, Greece, Italy, Jordan, Morocco, Peru, Poland, United Kingdom, Romania, Syria, Spain, Venezuela, Vietnam.
Modules of the Jean Monnet Chair
These teaching modules are assigned to qualified experts in support to the curriculum of the Master course in European citizenship and Euro-Mediterranean integration and as supplementary modules in the regular courses of the Jean Monnet Chair.
Among other training activities, CeAS has organized several courses and seminars, including, more recently, the followings. Training activities on behalf of the Presidency of the Council of Ministers, Department for European Affairs - Cycle of seminars, (29-31 May 2012); Training activities on behalf of the "Lazio" Region (Regional Directorate for productive activities) - Cycle of seminars on "Citizenship, business and local and regional dimension of the European Union" (July-December 2012);
Cycles of Conferences and Seminars
The conferences and seminars organisez by the CeAS and its partners are listed in the following link.
The last cycle was organised by the Centre of excellence Altiero Spinelli (CeAS) jointly with the Euro-Arab Institute for the Dialogue between Cultures, on March and June 2014 the seminars cycle "Reflections on Issues of the Arab Spring" with the participation of prof. Touhami Abdouli and prof. Ouejdane Mejri.